Halloween: A time for handing out sugary nicknacks to little kids, going to work/school decked out in costume and, naturally, watching classic Halloween movies all night. Presented here are 25 of the most timeless, best Halloween movies!
(Caveat emptor: Some of the following Halloween movies aren't as family friendly as others)
1. Trick 'r Treat (2007)
Trick 'r Treat is a story–well, make that five interrelated stories–that transpires on the same night (guess which!) and in the same neighborhood. To run down the litany of stories: A couple discovers something truly horrible when they blow out a jack o' lantern before turning in; a strange recluse gets a visit from a not-so-friendly trick-or-treater; a high school principal keeps a particularly unwholesome hobby; a prank committed by local teens goes off the deep end, and a college virgin…Well, you know where this is going!
2. Halloween (1978)
Over 30 years after its debut, Halloween is still–by far–the quintessential Halloween movie for the season at hand. In 1963, on Halloween night, cops respond to an call from 43 Lampkin Lane in Haddonfield. What they find is a dead, 15 year-old Judith Myers– stabbed repeatedly  by her 6 year-old brother Michael. Fast-forward 15 years later: Michael Myers escapes the mental institute he'd been confined to, and Dr. Loomis (his primary doctor) ominously predicts his patient's return to his hometown of Haddonfield. But as Loomis frantically searches the town for Michael Myers, the seemingly invincible "man" is already terrorizing and killing the locals.
3. Bram Stoker's Dracula (1992)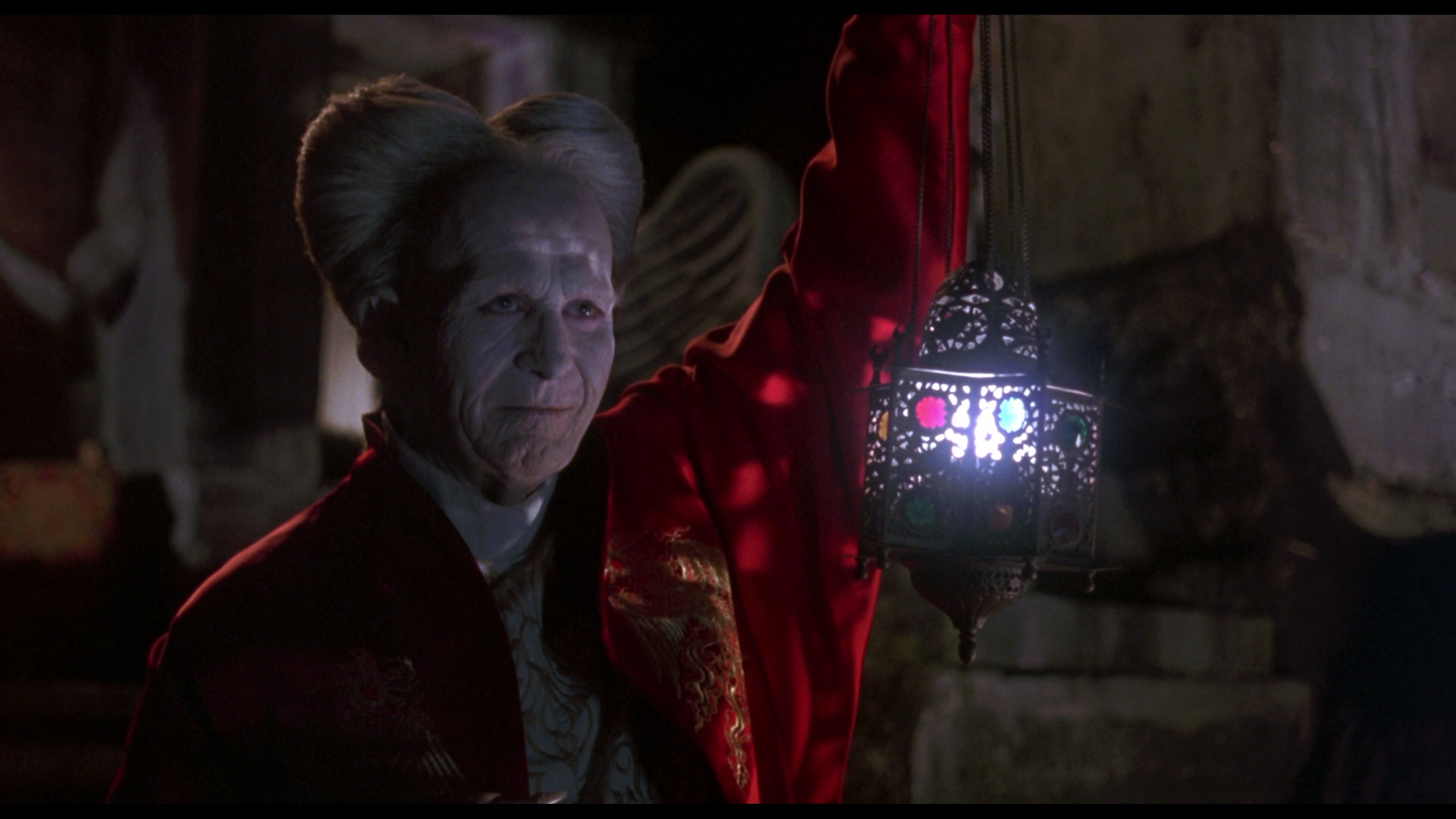 Based on the 1897 novel 'Dracula' by Bram Stoker, Dracula is a 1992 horror movie by Francis Ford Coppola. Often cited as one of the director's finest productions, Dracula debuts with a young, European lawyer who gets a job in a bizarre land in eastern Europe. Before he knows it, he's caught and incarcerated by the dark lord himself. Moved by a picture of Harker's finance, who lives in London, Dracula sets out to find her. Once he arrives in England, though, Dracula weaves a web of dark seduction and terror.
4. Friday the 13th (1980)
Like the aforementioned movie Halloween, no such list (as this one) would ever be complete (with the exception of strictly family-oriented Halloween movies, mind you) without Friday the 13th and its machete-wielding, hockey mask-clad Jason Voorhees character on the list. At Camp Crystal Lake, a team of camp counselors begin setting up camp. Death incarnate awaits them though, as a formerly-bullied "man" (Jason) and his mother's (Mrs. Voorhees) mission entails bloody revenge on anyone they happen upon. What follows is one camp counselor after another (many of them teens) stalked and brutally killed.
5. The Amityville Horror (1979)
In a Halloween movie where the line "For God's sakes, get out!" basically sums up the entire movie, The Amityville Horror is (according to some) one helluva thrill ride. It's also based on a true story of evil and murder. Soon after couple Kathy Lutz, George Lee and their kids move into a deceptively gorgeous lake house in Amityville, New York, crazy things start to transpire. And why shouldn't they? Just a year prior to the Lutz's taking up residence there, a young man had brutally murdered his entire family while they slept. And his evil spirit is back and will stop at nothing, including torment and murder, to rid the house of its occupants.
6. Fright Night (1985)
Nothing was better than a classy, late-night horror flick for Charlie Brewster. But when two men take up residence next door to him, Charlie's horror movie-smarts lead him to believe they are vampires based on their, at best, eccentric activities and personalities. No one believes his crazy story, though. The young man's only hope from being killed or, worse, bitten by vampire turns out to be a has-been actor (Peter Vincent) that hosts the TV show 'Fright Night'. Although highly skeptical, Peter initially agrees to help Charlie just to make a few bucks. Mr. Vincent soon realizes, though, he's in way over what he'd bargained for.
 7. Beetlejuice (1988)
Adam and Barbara Maitland seem like perfect husband and wife, with one exception: They're dead. And when a new, loud, obnoxious family moves into the house the Maitlands haunt, Adam and Barbara pull out all the stops (including awakening an unruly, clown-like character named Beetlejuice) in order to rid the new tenants (the city-folk Deetzes) of their home. In the end, however, it turns out that getting rid of Beetlejuice and the two families making a truce is the only solution.
8. Poltergeist (1982)
Since Poltergeist debuted in '82, folks have never looked at 'snow' on the TV quite the same. Ghosts visit a young couple and their kids in their new home. Seen initially as mere 'playful' ghosts–moving things about and such–the Freelings learn that their home is built atop an Indian burial ground. Bad turns to worse and, before they know it,  Carol Anne (the youngest daughter) is sucked into a kind of evil forth dimension, only able to communicate with her family through the snowy screen of a TV.
9. The Ring (2002)
Journalist Rachel Keller learns of a videotape that's rumored to have killed four teens, including her own niece. She begins an investigation into the tape and soon locates it. According to legend, whomever watches it receives a call from an evil little girl, who ominously warns them "seven days"–as in "you have seven days to live starting now". Rachel discovers that this isn't merely some urban legend, but the cold truth: One that begins to unravel its horrifying self upon her and her young son after both of them see the tape.
10. The Shining (1973)
One of the most famous scary Halloween movies of all time is The Shining.  A married couple and their young son assume the role of winter caretakers of the isolated, snowed-in Overlook Hotel. The son, Danny, soon after begins experiencing disturbing visions of the huge lodge's past with assistance from a telepathic gift called "The Shining". Meanwhile, Jack Torrance, the husband and father, as well as an author, immerses himself in a writing project, progressively succumbing to the absolute nadir of cabin fever and taunting of ghosts of the hotel's sinister past. When a ghost warns him to "correct" his family, Jack utterly loses it. Now, Danny and Wendy (Jack's wife, played by Shelley Duvall) must saves themselves from the insane writer.
11. The Omen (1976)
Robert (Gregory Peck) and Katherine Thorn (Lee Remick) portray a couple living the high life. Happily married, Robert portrays the U.S. Ambassador to the United Kingdom. But when Katharine gets pregnant and subsequently gives birth to a stillborn, Robert is met by a priest at the hospital who persuades him–unbeknownst his wife–to take a healthy newborn whose mother died during childbirth. When the Thorns relocate to London, Damien (their 'adopted child') starts exhibiting strange behaviors. That, paired with the seemingly-crazy warnings of a local priest – leads Robert to believe that Damien could be the Antichrist himself. Desperate measures follow.
12. The Exorcist (1973)
Not to be outdone by The Shining (of the same year), The Exorcist isn't only the film that claims the No. 1 spot on so many top Halloween movies charts, it's the film that consistently ranks as the scariest movie of all time.  A budding actress notices dramatic, bizarre changes in her 12 year-old daughter's personality and, later in the movie, her appearance. That even veteran doctors and child psychologists can find the root of the problem, two priests–Father Merrin and Father Karras–engage what appears to be a possessed child. Their own faith is put to the ultimate test when they wage open holy war on the devil in the body of a young girl.
13. Carrie (1976)
Carrie White, an introverted teen with superhuman powers, becomes the outcast and laughing stock of her class. An especially cruel group classmates even taunt Carrie when she abruptly experiences her first period in the locker room shower. But when one of them intentionally embarrasses Carrie when she's surprisingly chosen as the prom queen, neither the prankster or the other dozens of people on the dance floor foresee the terror that Carrie's about to unleash.  One of the best Halloween movies ever!
14. Corpse Bride (2006)
In an 18th-century Victorian village, Victor Van Dort and Victoria Everglot become engaged due to the Everglots need of money and the Van Dorts' need of maintaining their high status in society. The wedding rehearsal doesn't go so well, and Victor wonders into the woods to rehearse his vows. But as the groom finally recites his vows correctly, he discovers that he is now married to a 'corpse bridge' named Emily. With Victoria waiting for her fiance, she happens upon a rich man that could steal her away from Victor. Thus, the groom must confront a huge decision: Which woman does he really want to share his life with?
15. Ghostbusters I & II (1984, 1989)
A trio of unemployed scientists startup a unique ghost-busting service out of an old firehouse and and dub themselves 'Ghostbusters'–capturing and containing ghosts, poltergeists and other paranormal entities all for-hire. But after some time spent successfully hunting down ghosts–committing funny antics along the way–their most monumental challenge to-date is on their doorstep. They must save New York City from legions of ghosts and ghouls, including a skyscraper-ish marshmallow man.
The discovery of a massive river of green ectoplasm flowing under the streets of NYC, an uptick of paranormal activity, and an ancient demon who's hell-bent on being reborn through a child causes the Ghostbusters team–who had, since their first movie in 1984, been effectively shut down by lawsuits and injunctions–to revive the ole' ghostbusting business.
16. The Rocky Horror Picture Show (1975)
When an engaged couple's car breaks down and they find themselves stranded in the middle-of-nowhere, they're forced to seek help from the residence (dubbed none other than 'Transvestite Transylvania') of a bizarre transvestite named Dr. Frank-N-Furter (Tim Curry). The couple is hence "treated" to weird, bohemian-like rituals, dances, musicals and an actual "person" created by the doctor himself. Truly a Halloween (cult) classic, The Rocky Horror Picture Show takes honors–even 30 years later–as one of the trippiest movies ever.
17. Paranormal Activity (2007)
Although you won't find any of the traditional blood and gore tactics used in Paranormal Activity, there's actually no reason for them. Things that go bump in the night take on a new, more terrifying meaning (not to mention, with eerily crisp sound) soon after a couple move into a suburban house. The playful husband, essentially recording the length of the movie, begins to capture a demonic-like presence that gradually, progressively starts to make its presence known–particularly in the wee hours of the morning–culminating in a truly shocking ending.
18. The Strangers (2008)
After attending a wedding reception, a young couple–whose relationship turns out pretty shaky after Kristen (Liv Tyler) rejects her boyfriend's (James, played by Scott Speedman) marriage proposal–retreats to a vacation house in literally the middle-of-nowhere. Latter that night, whilst they're all tucked in bed, an extremely eery knock on the door pierces the relative silence. After a period of taunting the couple from the shadows outside the residence, the knock on the door suddenly, violently transforms into a ax tearing it down. What follows is a series of truly heart attack-inducing scares by three masked strangers determined to terrorize the vacationers to limits almost unimaginable.
19. It's the Great Pumpkin, Charlie Brown (1966)
Charlie Brown and the Peanuts gang celebrates Halloween, while the ever-curious Linus eagerly anticipates a visit by myth-like Great Pumpkin.
20. Nightmare on Elm Street (1984)
Nancy Thompson and her friends, including Rod, Tina (Amanda Wyss), and Glen (Johnny Depp), live on Elm Street and are the children of parents who hunted down a suspected child killer (or 'child rapist' according to the 2010 remake) named Freddy Krueger. Years later, Freddy returns as a disfigured, knife-fingered villain who's out to terrorize (and kill) the now-grown children of those parents via their dreams.
21. Sleepy Hollow (1999)
Constable Ichabod Crane (Johnny Depp) is dispatched to Sleepy Hollow to determine how and by who (or what) three people were decapitated. Under suspicion is the notorious, mystical apparition dubbed the 'Headless Horseman', who's deemed a curse by the locals of the small town.  Crane discovers that all three heads are missing and, upon further investigation, learns that the suspected headless horseman is the ghost of a Hessian who was decapitated with his own sword at the hand of the British. However, he's not convinced of the story until he witnesses firsthand the ghoul murdering a town councilman. And to boot, the young lady (Christina Ricci as Katrina Van Tassel) that Crane has taken an interest in has unsettling family ties to the headless horseman.
22. The Addams Family (1991)
Based on Charles Addam's animated series, the 1991 flick 'The Addams Family depicts con artists–among them a seedy loan shark and crooked accountant–that plot to defraud the bizarre, wealthy Addams family by presenting them with a person they claim is the family's long lost Uncle Fester. Once implanted, the imposter Uncle Fester's mission is to gain access to the family's vault and steal what he thinks is a huge treasure inside it. (Spoiler: He'll be sorely disappointed)
23. Scary Movie (2000)
This one isn't nearly as scary or thrilling as it is gut-bustingly funny. 'Scary Movie' (a bit of a misnomer in of itself) entails a series of hilarious parodies made of scary movies like  'I Know What You Did Last Summer' and the 'Scream' franchise.
24. Vacancy (2007)
A married couple, David (Luke Wilson) and Amy Fox(Kate Beckinsale), becomes stranded at a rural motel and after settling in, unwittingly (initially) witness sadistic murders on their motel television. Moments later, they realize that they themselves are being spied on by hidden cameras planted around the room. Unless they escape the motel via its network of crawlspaces, underground tunnels, and secret passageways, they'll become the new victims of the owner and his vile, voyeuristic "hobby".
25. The Blair Witch Project (1999)
In the cult classic-esque Halloween movies favorite that scared some moviegoers witless (and others, it seems, to boredom), three film students travel into the Maryland wilderness to make a documentary about (and in search of) the legendary Blair Witch. They were never seen alive again, but one year after the disappearance, their camera and the footage within is found a year later: What's revealed is the shocking truth about a dark force that roams those parts.
Halloween movies are a great way to enjoy this spooky holiday.  Did we miss one of your favorite Halloween Movies? Leave a comment below we would love to hear what scares you!